Content of this page is under development.
Adsterra claims on their website to be a premium ad network. This ad network gives you opportunity to monetize your traffic on CPM and CPC bot basis. But to join this network you should have at least one thousands unique visitors for your website, If you don't have 1,000 users per day then most probably your application could be declined due to low traffic volume. If you don't have such huge traffic from your website but If you have any Facebook page or any other social media pages with at least 1000 users per day then also your account can be approved and reactivated, You can promote their direct link at your Facebook page or any other social media page.
They monetize all they traffics no matter from which country it comes but rates of all the regions are different. If you have traffic from USA, Canada and European countries then you will get very high CPC and CPM rates for such traffics, Ther rate for for traffics coming from Asia countries is very cheap. So if you want to generate good revnue from Adsterra netweork then you should strive to get majority of traffics from USA, canada and other European countries where CPC and CPM rate is very high.
Their rate is good but Google really hates some of their ads, so You can join their ads on your own risc. To join this network First you need to create an account in their website and login in the account after confirming mail. Now click on Add website When you will click join add website then you will get a dialog box something life following. Now you will see the following options there in dashboard-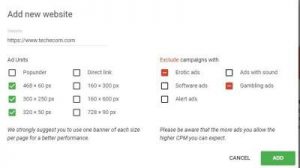 1) Popunder: their Popunder will give you VERY high CPM rates and you will get good revenue for your traffic but It will really heart search engine rankings of your website moreover it will irritate your visitors, Because on every clicks there opens website of others in form of pop-up and your web pages goes back to the pop-up
2) Direct Link: Direct url is used to monetize traffic directly from your posts. By choosing direct link option you will be given a link by adsterra to promote it, You can link this link o your web pages by creating your own banners and you will make money for clicks on the link, You also can make money from Facebook and other social media platforms by sharing their link there, If you get clicks even from social media like Facebook then also you will make money.
3) Banner ad: Banner one is the one of of theirs that I really like. They Provide banner ads of different type like 468*60 px, 300*250 px, 320*250px
If you are going to use banner ad then I recommend you to use banner ads of each size to get higher CPM rate. Currently they have banner ads of three size as I have mentioned above, You can select all the three at the time of sending request If you want to use all there banner ads of their.
4) Pop-under ads: Pop-under ads give highest CPM rates and you generate great revenue, But such ads could mislead your visitors and cause more bounce rate for your website.
4) Adsterra gives you control to exclude campaigns with erotic ads, software ads, aler ads, ads with sound, gambling ads. If you don't exclude erotic ads then network could send adult ads as well so It is highly rec recommended to exclude erotic ads if you want to see neat and clean ads on your web pages.
After selecting the ad details you can click on add, when you will click on add then it will be sent a a reuest to adsterra team to review you account with you ad details. It will take 2-3 business days to get reviewed your account, once your account is approved then you can use their ads on your website and start monetizing your traffic.
Adsterra: They have good reviews in paying timely. Their minimum payout is of USD 100 that is little high for small publishers.
How I joined Adsterra with hopes and ended up with getting my website penalized by Google:I am going to tell you here, How my one of the websites got penalized by Google just for using Adsterra ads
How Google penalized my website just fro using Adstera ads:
I was looking for adsene alternative on AdSense, I came to know on web that Adserra is one of them, Although I found some reviews that Gogle penalizes the website that uses pop-under ads so I refrained using pop-under but started using banner Ads, Their rate was really good, I was getting good CPM rate for banner ads, Their ads were mostly related to software download.
After using around one month ads of Ads of Adsterra , Google penalized my site on March 2, 2018,and they removed my website from Google Listing, All rankings got dispread . Although I was not using pop-under but was using banner ad only. Google sent me message after penalizing my website that your website is using Sneaky mobile redirects from some pages so Manual Action has been taken. After reading their message I realized that It is Adsterra ad code that is creating problem
Because I was using no ad except Adsterra so I quickly removed their Ad and sent re- inclusion request to Google. Now
Google approved my re-inclusion request and my site got back in Google listing.
I will post more update soon.