If any visitor leaves your website by visiting just landing pages then ranking of your website goes down. If majority of users do the same and leave your website just visiting landing page then bounce rate of your website will be too much high. When bounce rate of your website increases then it gives negative impact to search engine rankings of your website. Leading search engines like Google, Bing, Yahoo push down the rankings of your website. They think that content of your website was not useful for them so they push down the rankings of your website. When it comes bounce rate then Google is really very strict on this they really punish the website that have higher bounce rate, So Here at this age we will learn how to reduce bounce rate.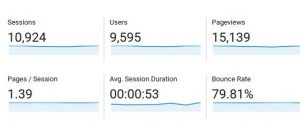 The average bounce rate is 60%- 69%, If your website is having more than 69% then you should take action and diagnose the structure and content of your website to lower down the bounce rate.

Here I am going to tell you some tips how you can lower down the bounce rate, If your site is getting a higher bounce rate then the average:
1) Use relevant, meaniful, high qulity and unique content
2) Create multiple posts on similar type and do inter linking
2) Don't do too much advertisement on your web pages
3) Use call-action method on your website
4) Keep your website fast loading and responsive: Optimize your data base, images and scripts to reduce load times and make loading fast.
5) Provide clear navigation, with good user experince
5) Use attracting headings for others trending posts
6) Use a good host for your website, If your site is having very high traffic like 4-5 Thousands users/day then donot use shared hosting but go with VPS or dedicated server.
7) Use CDN(Content delivery network)
8) Donot use Popup/pop-under ads, Such ads irritate alot to visitors, and they leave your website instantly.
9)Don't keep malware or virus on your website, Keep install anti-Virus software on your commuter, with which you manage your website.
10) Some hosting providers provide free Malware/hack scan service for they customers. If your hosting provider is providing such services for you free, then keep scanning your website at least once in 15 days, by going hosting panel.
11) If you are using wordpress in your blog or website, then don't install so many plugins, some plugins consumes high resources and your site goes down.
12) Don't use heavy images on your website, image is very large then break it in parts and resize it then use it on your site.
13) Improve content readability of your website.
14) Don't use Sneaky Redirects on your website, Check if there been set Sneaky Redirects by hackers.Sneaky Redirects give bad user experience to the website visitors and they leave your website instantly.
15) You need to become a regular visitor of your website and keep checking user experience of it. If think that your website need any improvements then do it instantly. When you visit your website then do not leave it instantly by just visiting single page, but visit more inner pages.