Google AdWords is an online advertising services provider owned by Google which is based on PPC and CPM.
If you are doing search engine optimization to get ranked in organic listing of Google then it could take some time to get ranked in organic listing of Google. But If you want instant result in Google to gain targeted traffic then you can use Adwords programe of Google. Here you have not to do a lot of seo optimization work and wait for months to see good results. But You can activate your result in a versy short span of time. It will take only few of hours to get approved your Ad-Groups, Once adgroup is approved then your ads will start showing in sponsored listing of Google. If you want to send your ads on Gogle search partner networks or Content network then you also can do this.
In PPC program of Google, You can set your ads with desired keywords. Cost of every Keyword is different. an Advertiser has only pay when his ad gets clicked by audience.
First of all you need to sign up Adwords with credentials of your any Gmail account. Once it is done then you need to create a campaign, after creating campaign you can create different ad groups inside your created campaign.
To create a campaign you need to click on Campaigns after that click on New Campaign. When you click on New Campaign then you are asked to select campaign type. Now you need to select a campaign type (Search, Display, shopping, Video, universal App) as per your requirement. After selecting the desired type of campaign you need to select goal type (Sales or leads or website traffic), if you don't want to set any goal then you need to click on create a campaign without goal.
Supposes that if you want search type Campaign and your goal is to get sales then you need to select search type campaign after that select goal as sales, after this you need to select the option of the way you want to reach your goal (Get website visits or Cell phone calls or Get app download), after doing this put the details like, If you want visits for your website then you need to fill there your business's website name and URL, later click on continue. If you want to get phone calls then you need to select country and later put there your phone number and if you want downloads for your apps then you need to select Get app downloads and after this select option your mobile apps platform (Android or iOS) after this in the option of Look up your app, you need to put app name, package name, or publisher after that click on OK
When you click on ok then a dialogue box will appear and it will ask Campaign name, now put Campaign name whatever you like to put, later this you need to select network type (Search Network, Add Display Network), You can select both network type or anyone from both. If you select search network then your site will appear in sponsored listing of Google with different search terms, You will later assing desired search terms (Keywords), If you select display network then ads for your website will display on relevant publishers' sites/blogs of Google network.
Supposed that for now you want search network inclusing search partners of Google, then select Include Google search partners, and select no to Add Display Network.
Now you need to select locations(All countries and territories, United States and Canada, United States,
Enter another location), Supposed that you want to display or exclude your ads in India then you need to put India in search box, Now if you target in India then select Target, but if you want to exclude India so that your no ads will appear in India then you need to select exclude.
Now after this you need to select the langue your customers speak, By default it is set English, supposed that your customers speak Hindi then you need to select Hindi option.
Now you need to Enter the average budget you want to spend each day. Supposed that you want to spend Rs 500 every day then you need to put 500
Now you need to select bidding strategy (Target CPA, Target ROAS, Maximize clicks, Maximize conversions, Target search page location, Target outranking share, Enhance CPC, Manual CPC), By default it is set maximize CPC, If you leave it default as maximize clicks, then adwords automatically manage bid rates to provides you higher clicks, I want set you manual CPC bid strategy so that Adwords don't take extra charges than your desired.
Adwords also provide you facility to set Start and end dates for your campaingn, If you donot want set this then leave it and move ahead.
You also can set Sitelink extensions, Callout extensions, Call extensions to to appear in your ads in the sponsored listing, If you don't want set this then ignore these options and move ahead, but such options make your ads impressive so it is highly recommended to use. Now setting these things now you need to clicks on 'save and continue'
Now a new window os opened and you are asked to give Ad group name, By default it takes name as Ad group 1,
Adwords also allow you to make Ad group level settings as well. Now you you put Default bid and keywords/key phrases. You can specify keyword type as well like keyword = Broad match, "keyword" = Phrase match, [keyword] = Exact match , To read more about it click https://support.google.com/adwords/answer/7478529
Now click on save and continue. After this you will be asked to create ads for your created ad group, It is recommended to create at least there ads that closely relate to the themes of your targeted keywords.
To create ad, you need to click on 'New Ad'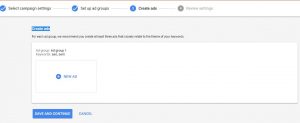 Now a dialogue box will appear and it will ask you to fill the details of Final URL, Heading 1, Heading 2, Display path and Description of the ad. After filling the details click on save and continue.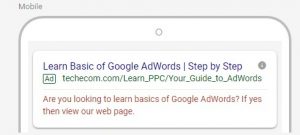 Now your ad is created and it is sent to adwords team to get approval, Once your ad is approved then it becomes eligible to appear, If you have done payment settings then after approval your ads will start appearing in sponsored listings of Google.
If you have not made payment setting then click on setting and under set up click on 'billings & payment'
Now select your billing country, after this select account type whether it is individual or business type. Now you may nbe needed to set Tax information, Like PAN (Permanent account number), TAN( tax deduction and collection account number) although tax information is optional, You can leave it blank if you don't want to fill.
Now you need to fill billing name and contact address and phone number, You should put correct phone number because if there is any problem with your campaign then Google team reaches you to guide you and inform you.
Now you need to select how you want to pay (Automatic payment or Manual Payments), I recommend you to set it as automatic Payments.
Now you need to set payment method, you can link your debit or credit card in this option by putting card details, Note that without activating payment method your ads will not appear.
Now select option 'I agree to the AdWords terms and conditions.' And click on Submit. Now your payment setting will be done.
If you face any problem in setting Adwords campaign then you need not worry, Adwords team is ready to help you and guide you, they have toll free numbers for every country, You need to find toll free number of adwords for your country and call them for support, they provide free support, Even They guide you step by step on phone to create adwords.
When your campaign starts working then you need to start to improve quality score and CTR and manage bid rates in effective ways. Note that rust worthy landing pages of branded companies get automatically Good CTR, if you are new in business then you need to have some patience to build a reputation on web. When your company as well becomes a branded and rust worthy company, then your campaign starts getting good CTR rate and you your conversion rate also becomes good.
Above number is for Indian customers.
To learn more about Adwords please read https://www.google.com/onlinechallenge/discover/campaign-adwords.html