A dedicated hosting is the most advanced hosting solution, with dedicated hosting you get whole server to allocate your website (s). . A dedicated server is more stronger than VPS server, and you have full control over server and this server is shared with none, you are the only user of this server. A dedicated server is more costly than VPS, It can handle more traffic than a VPS can, In case of dedicated server all the resources of the server are assigned to you and none.
Dedicated severs are more, secure fast and reliable than VPS. Dedicated servers really offer incredible performance. Search Engines love the sites that laod faster, so You will get credit even for search engine rankings.
Dedicated servers are recommended for you if your website gets very massive and handles big databases or hosts a lot videos or media files.
A dedicated server is a physical server that can handle just double or more than the average virtual VPS (private server) and you can also install very advanced applications, softwares on it, which you cannot install on a shared server.
Some of the providers for dedicated servers are as follows:
1. Liquid web: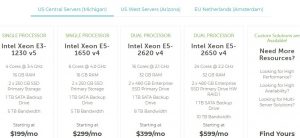 2. InmotionHosting:

3. Hostgator:

4. Bluehost
5. Knownhost
6. Siteground
7. Dreamhost
8. Godaddy
9. A2 Hosting
10. Arvixe