Google is always in effort of to provide Good results to its visitors, To display good results Google has some algo and guidelines. If you follow their guidelines and algo then you can achieve very good position in their organic search results and you will never face Google penalty. But If your website got penalized then also you need not to lose your hope, Google still want your website to be part of in the or organic search results so after penalizing your website they send you an email in mail box of Your Google webmaster tools account and they tell the problems in your website and encourage you to fix the issue so that they could remove Google penalty.
There are many seo Agencies who offer Google penalty recovery services but if you want to do this by yourself then I hope my article will help you and guide to fix the issue.

Google penalties are of different types, here will discuss some of them with the method how to fix the issue.
1) Unnatural/unethical Link building : Many use Auto backlink builder to build links, really it is a spammy type of methods such links come under unnatural; Some buy links by paying money in return of links. Google doesnot like pay links and paid links fall unnaturtal links.
If you have got unnatural links fro site of others then contact to website owners of the websites where unnatural links for your website are present and request them to remove your links. Google knows well that removal of links from website of others is not totally in your hands and some of them could not hear your request. So you need to collect all the remained natural links. in .txt file in the following formate:
domain:nameofunnaturaldomian1.com
domain:nameofunnaturaldomian2.com
When your .txt file becomes ready with collection of unnatural links then Upload it in Disavow Links Tool – OF Google Webmaster tools.
For more information you can read this : https://support.google.com/webmasters/answer/2648487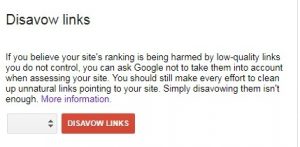 After uploading unnatural links in .txt file in asked format by Google, you need to send inclusion request to Google. Tell them that you contacted website owners to remove my links some removed but some refused to remove or given no reply so We have uploaded rest links in Disavow tools so review our website and remove manual actions penalty. After sending reinclusion request it could take time of some weeks to be reviewed your website, if you have really fixed the issue the they will remove penalty, if there problem still exit then your reinclusion request will be rejected by Google team and then will encourages you to do more to fix the issue after that send again re-inclusion request.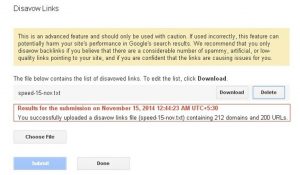 Although they say that it could take time of weeks to to reviewed your re-inclusion request, but I always experienced that they review in just 1-1-3 days and don't take more time, As I have done this for many of my clients who came to me to get removed Google penalty of their website.
2) Sneaky Redirects : Forwarding your genral web page to mobile version page is not bad for example you can send a page like www.techecom.com/seo-tips/ page to www.m.techecom.com/seo-tips/ to mobile users but when you send your web page to a different URL then this become against to Google SEO guidelines and Google penalizes your website. In many cases website owners are innocent and this act is done by a third party. For example If you are using any unreliable ad network to Monetize traffic of your website then they also can do this to achieve their own goal, in some other cases hackers to get traffic for their websites redirect traffic of your web pages to their own. Such type of redirection misleads to the website visitors while Google is determined to give relevant and good result to its users so Google penalizes your website if You use such type of redirection to transfer traffic of your website to other website(s). I recommend to keep your website away from Po-under ads because sush ads also mislead website visitors, and donot use ads of unreliable ad network who without your prison place different types of ads.
If your website gotten hit by manual action of Google just for using ads of such ad networks that uses sneaky redirection to redirect your visitors to website of their advertisers then quickly remove their ad codes and after that send inclusion request to Google. If your website gotten hits by manul action then there is open option to send inclusion request to Google. You just need to lgin webmaster tools account and click on search traffic after that click on Manaul actions, now you will see that Google has sent message for you that manual actions are applied on your entitre site and your website may not perform well in Google search results because it violated Google guidelines. You will see that Sneaky Mobile Redirects used by your site violated Google guidelines, Now Google will encourage you to fix the issue and after that send You send re-inclusion request to get removed Manual action Google penalty. There is a button name 'Request a Review' after fixing the issue you need to click on it and after that a dialogue box will open and it will ask whether you have fixed the issue. Mention there message that you have fixed the issue and you need there to request to Google to review your website and remove Google penality. Once your inclusion request is submitted then your request will reach to Google team, It could take some weeks to get reviewed your request. If you really fixed the issue then Google will remove Google penalty, If issue still exits then your request will be rejected and Google will encourage you again to fix the issue, You take time of some week and fix all the issues after that send inclusion request, You should not do hurry in second time but you should put good efforts to fix the issue and make sure that issues are fixed after that send re-inclusion request.
If you will have a look on the above user graph of Google Analytics report then you will find that on the 9th March rankings were not just recovered but also were increased , It reached to 1700+ unique visits, I want tell you site never gotten such massive traffic ever before. so I can confirm that ranking fully recovered and even increased.
If you will see impression report that you will find that got penalized on 3/1/18 and organic impression fallen down to 7, 944 as previous day (on 2/28/18) it was gotten 37,737 impressions. Later now you will see the impression got fallen more and it dropped to even Zero on 3/2/18, it remained zero on 3/3/18 and on 3/4/18 it gotten only one impression. But When I fixed the SEO problems and sent re-inclusion request to Google, Google removed penalty then impression raised up to 8,826 on 3/518 and on 3/6/18 ranking fully recovered and website got 38,960 impressions.
3) Cloaking: Cloaking is a black hat seo technique that Google dislikes, In Cloaking people design different content for search engine bots that is not present to the user of website when he/she views web page on the browser. So Google penalizes such website. You should not deceive Google by using cloaking if You got penalized then you need to fix the issue, put good content on your web pages that is same for user and bot after that send re-inclusion request to Google.
4) Hacked sites/ Virus: If you think your website have been hacked or your website have been infected with virus then clean code of your website. When such issues your website faces then most probably Google send your alert in 'Security Issues' option available in Google webmaster tools.
5) Keyword stuffing: If you put keywords in unethical way and make stuffing then in such cases also Google could penalize your website. If your website got penalized then you should remove stuffed keywors and put keywords in ethical way by taking care of Google guidelines. If you got manul action penalty the send re-inclusion request after fixing the issue. If it was automated then it will be removed automatically and you donot need to send reinlsion request, you just need fix the issue.
6) Hidden text: You should not put hidden text for just bots, Google penalizes such website that uses hidden text just for bots and not users/visitors of the website because human canot see hidden text but yes robots read hidden text as well.
7) Bad and spammy web host: You should use a good hosting company to host your website, If any user finds your website and tries to open it, then your website should be open, If there is any issue on server and user is unable to open the web page then it gives bad impression, You need to check log of server in panel of your hosting if there any issue facing your website. Later you need check Google webmaster tools account if there any server error exist. If you facing issue with your bad server then you need to switch another hosting company to get a Good sever for better performance.

8) Broken Links: Google penalizes the websites that contan broken links. If your website got penalized just for broken links then you need clean code of your web page by removing the broken links, after fixing the issues you need to send Re-inclusion request to Google.
9) Copied content/ DMCA complain penalty: You should use your won wriiten article for your website and strcily avoid using copied content from web. Because Google hates copied content.
10) Black hat SEO: Don't use any type of black hate SEO technique to deceive Google. The system og Google is very strong you cannot be spared by doing after doing unethical seo strategies.